Helping You Navigate the Legal System
If you need help through a complicated legal process, we are here to guide you.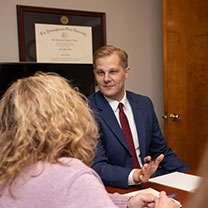 "What a wonderful team of people at Beacon. They truly feel like family after our adoption case."
Jessica Carbone via Google Review


Areas of Practice
We know that family law matters are deeply personal and our firm is dedicated to properly representing you and your loved ones during the legal process.
Adoptions

We will help you grow your family through adoption, or help defend you should you be faced with termination of parental rights.

Children/Youth Dependency

We can advise and represent you through Child Protective Services (CPS) investigations and dependency proceedings, to protect you and your family.

3rd-Party/Grandparent Custody

We'll help you legally obtain guardianship or custody over a grandchild, step-child, or child that is special to you, and advise you on your rights.

Child Support

We can help you through the process of filing for or defending against a case for support, whether spousal support, alimony, or child support.

Custody

We can help you with complex, high conflict custody cases, representing you at trial, or in simple matters, assist you in negotiating a resolution through an agreement.

Divorce

Our attorneys help you through a divorce, whether you'd prefer mediation or litigation, advising you on your rights so that you can make the best decisions for you.

Expungements

We'll guide you through the process of requesting records, and then expunging or limiting access to your criminal history.

Immigration

From green cards to citizenship, we'll help you navigate complex immigration and citizenship issues so your family is always on the right side of the law.

Protection from Abuse (PFA)

We'll help you obtain a Protection from Abuse Order to protect you from immediate danger, or provide counsel when a PFA has been filed against you.

Wills/Estate Planning

We'll help you establish a will, craft advance health care directives and power of attorney documents, so that you and your family have peace of mind in time of need.

Nonprofit Formations

We'll assist you with forming a nonprofit and applying for tax-exempt status so your organization is in compliance with both state and federal laws.
We're here to guide you
Life can be complicated. You can trust the lawyers at Beacon Law with your legal matters.
Contact Us
Meet Our Team
When you need a beacon in the darkness, the experienced lawyers at Beacon Law will be your trusted counselors and advocates.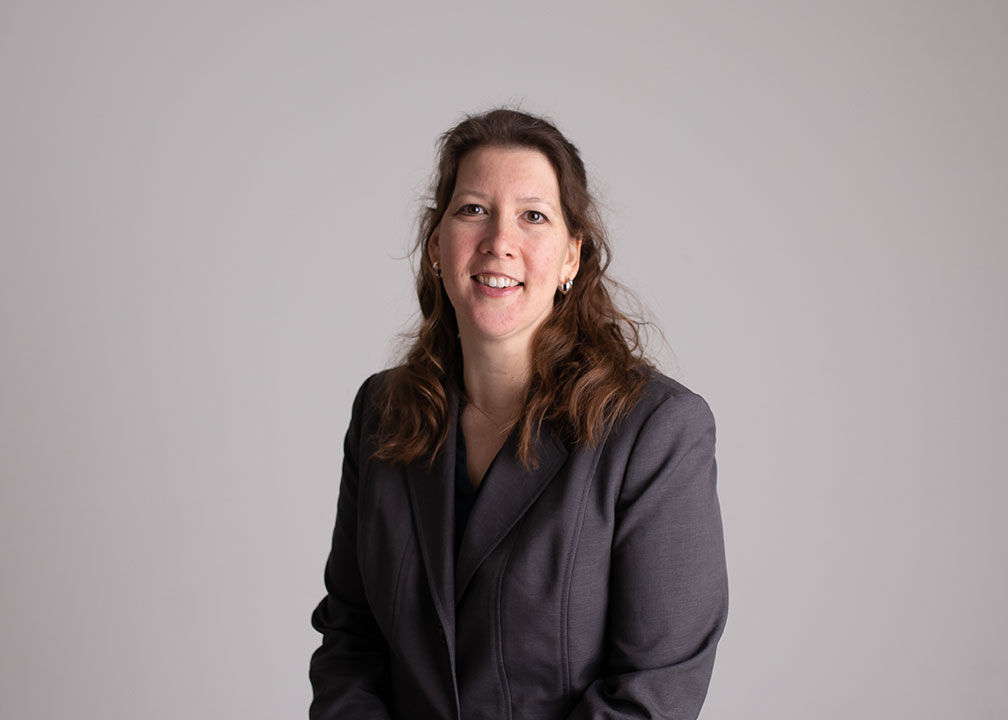 Alina M. Dusharm, Esq.
Attorney
Attorney Dusharm has a wide range of knowledge and experience in numerous areas of practice, but currently concentrates her work on child custody, support, and children and youth cases in York County.
She particularly enjoys complex custody matters that often involve various other "problems" including PFAs, criminal charges, children and youth investigations, and dependency matters. Attorney Dusharm is dedicated to finding a good result no matter how bleak the circumstances.
Attorney Dusharm's additional experience includes Federal Court cases including Fourth Amendment civil rights cases, such as police brutality and prisoners' rights violations, as well as workers compensation and personal injury.
Attorney Dusharm is actively involved in her church, New Life Assembly of God, where she loves to attend with her family. In her free time, she loves to crochet, participate in competitive volleyball, and play board games with her husband and children.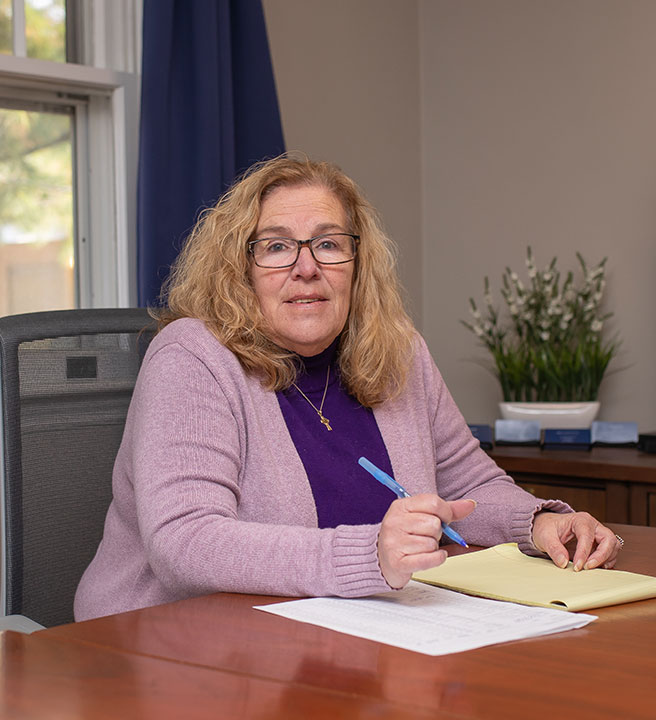 Michelle Orchard
Paralegal
Michelle is originally from Monmouth County, New Jersey, where she first came to the legal field as an administrative assistant/paralegal for 8 years.
In 1997 Michelle relocated to Dover, Pennsylvania, with her husband and three daughters where she has been a paralegal for over 20 years focusing primarily on civil litigation, social security disability, and employment. For the past several years, Michelle has focused on mainly civil litigation and family law matters. With over 30 years of experience, she brings a great deal of skills and knowledge to Beacon Law. Michelle assists in all client matters relating to civil litigation, divorce, custody, and support. She works closely with our attorneys to ensure that all clients' needs are met and discussed to help reach a successful outcome in the case.
Outside of work, Michelle enjoys spending time with her family and friends. She enjoys traveling, working outside, baking, and crafts.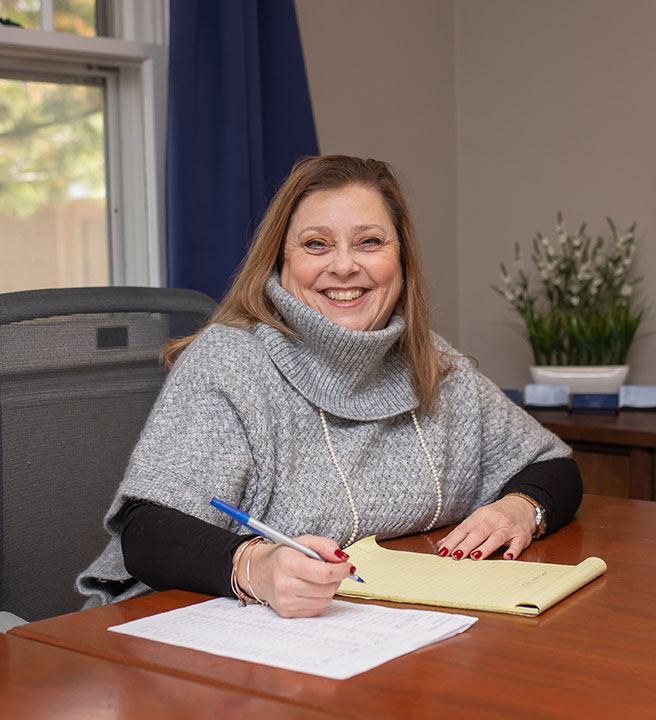 Cynthia R. Dennes
Paralegal
Cindy has worked in the legal field as a paralegal for over 16 years, in York and Lancaster counties.
Cindy primarily focuses on family law, but also has experience in real estate and estate planning areas of law. Outside of work, Cindy's daughter is her pride and joy.
Cindy has been a member of the Lancaster Area Paralegal Association since 2007, and is currently the Vice-President and Special Events committee chairperson. Additionally, Cindy holds the title of Pennsylvania Certified Paralegal through the Keystone Alliance of Paralegal Association, and has been a notary public since 2004 through the Pennsylvania Association of Notaries. Cindy is also a member of Holy Spirit Lutheran Church in Lancaster.
Cindy brings knowledge, compassion, and enthusiasm to each and every client Beacon Law serves. A former client published a Google review stating, "we have worked with Cindy for so long she feels like family."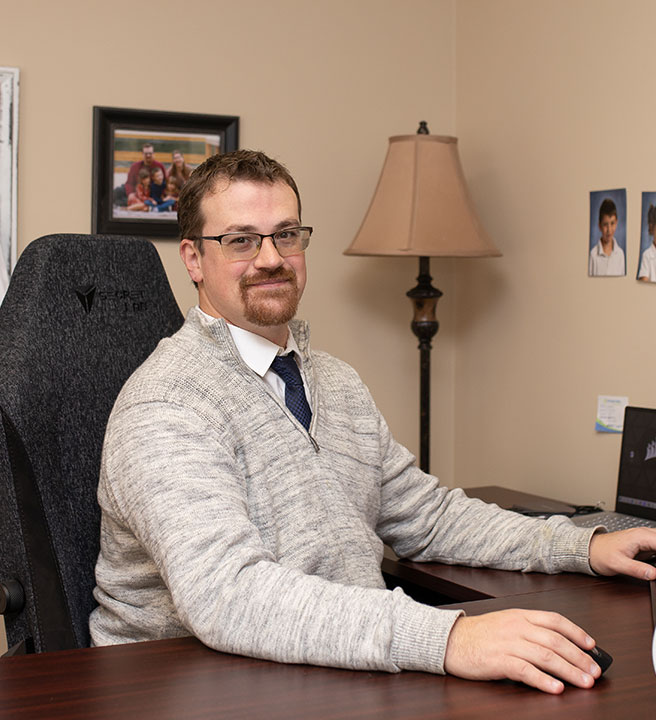 Ryan Dusharm
Administrative Assistant
Ryan Dusharm joined the firm in 2020, making Beacon Law a family endeavor as he helps his wife Attorney Alina Dusharm lead the staff and manage the business.
Ryan brings experience from years of customer service allowing Beacon Law to better support its clients.
Ryan also is able to bring in a unique perspective from his time working with youth in difficult circumstances, including those in residential facilities and those going through the justice system. The staff at Beacon Law rely on him to keep the office running with updated technology and daily administrative needs.
Ryan attends church with his family, loves listening to audiobooks, and playing board games with his children.
Contact Us
When you need experienced legal guidance through a family law matter, our firm can assist you. Serving clients in York and Lancaster counties.
55 W Canal St, Dover, PA 17315
Mon-Fri, 8:30am – 5:00pm
Phone: 717-931-0111 ~ Fax: 717-308-4113 ~ info@thebeaconlaw.com